Emptyset
James Ginzburg and Paul Purgas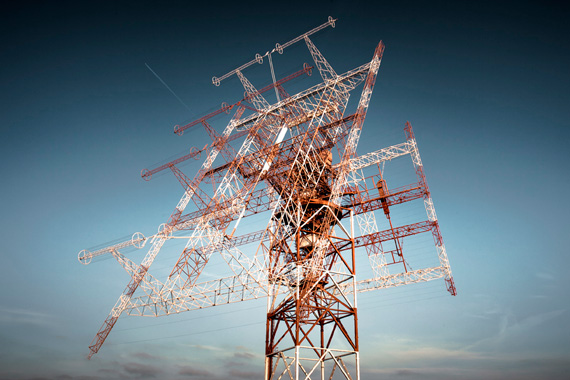 2005年にJames Ginzburg and Paul Purgasより形成されたロンドンブリストルのEmptysetの音響は、電磁気による物質的なプロパティを調査する動きの、イメージ アーキテクチャとそのプロセス基づいたイメージ制作で、ノイズと歪み音楽の間の構造/唯物論者アートの創造、知覚の境界を越えた迷宮のようなシグナルの予測不可能な可能性における実験が繰り返されることによって生み出される。最新EP" Signal " ではプロジェクトシグナルのライブ録音による伝播や伝えられた音の効果を調査し、ドイツラジオで委員会を通して開発されたシグナルは、イオン圏の伝播による性能プロジェクト調査音と構成、および電波、ノイズの統合面、およびパフォーマンスの際のリアルタイムに送られてきたスペース天候の雰囲気に富んだ変調である。このプロジェクトは2015年2月1日にベルリンで起こった。大気〈装飾し、イオン圏での物質的な変動に従ってシグナルを形成したプロセスの〉を横切る正弦波構造により構成されているオーディオをバウンドさせるためにプロジェクトが長い距離高周波ラジオトランスミッションで採集したノイズ および太陽の放出パターン。シグナルのパスは、世界の最も古い操作上のトランスミッションステーションから、1950年代のフランスラジオベースEmetteur d'Issoudunにより受け取られ、ベルリンのスペースで再伝達され受け取られ、 それから送られたリアルタイムの2000km回路〈ベルリンから都市の西のナウエン40kmに送信された〉を横切るオーディオを送ることによって構成されている。レコーディングは、DeutschlandradioとCTMのサポートにる2つのライブ・パフォーマンスから。
Emptyset - "Awake"
Anonymous Listener 13
2013/07/14
Track # 9 from the album "Emptyset" (Caravan Recordings, 2009).
A1 Aleph A2 Gate 1
A3 Gate2
B1 Beyond B2 Gate 3
C1 Completely Gone C2 Beyond 2
D1 Gate 4 D2 Awake
D3 Over
Subtext – SUB014
2 × Vinyl, LP, Album, Reissue
UK
Released: Sep 2015
Electronic
Minimal, IDM, Techno, Downtempo, Drone
Produced, Written – J. Ginzburg, P. Purgas
Mastered – Kevin Grainger
Recorded At Multiverse Studios
Engineered At Multiverse Studios
Mastered At Wired Masters
Lacquer Cut At Dubplates & Mastering
Design – John Coulthart
Photography – Caroline Seymour
Phonographic Copyright (p) – Subtext
Distributed By SRD
Copyright (c) – Subtext
Published By Multiverse Media Publishing
℗&© 2015, Subtext Recordings
SUBTEXT RECORDINGS 2015
Subtext Recordings
Guardian - Emptyset - Signal - Stream
Pieces of live VJ performance in Nikola-Lenivets national park (main show of the New Media Night 2014).
Realtime lasers & 3D projection mapping onto monumental Universal Mind sculpture (30x12m).
Music provided by Ulrich Schnauss, Mouse on Mars, Emptyset.
Concept, mixing, effects: Vadim Epstein (eps)
Videomapping and generative graphics: Ekaterina Danilova (idwyr)
Technical assistance: Anton Kalabukhov (antokhio), Julien Vuliet (vux)
3D model: Eugene Bespalko
Special thanks to Ivan Polissky, Alex Zhogoff and Vladimir Ponimash.
nikola-lenivets.com/events/?item=174
nikola-lenivets.com/art/?item=21
Emptyset – Signal
A Side I 7:21 B Side II 9:04
Subtext – SUB015
Vinyl, 12"
UK
Released: Sep 2015
Electronic
Drone, Industrial, Techno
Written By, Producer – James Ginzburg, Paul Purgas
SUBTEXT RECORDINGS 2015