Nicola Ratti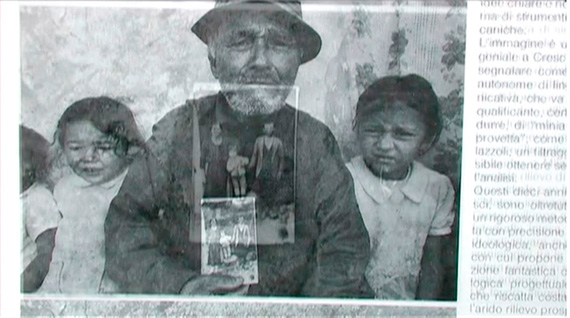 http://vimeo.com/11580349
"Il furore delle immagini"Fotografia italiana dall'archivio di Italo Zannier nella collezione delle Fondazione Venezia
from Fatima Bianchi
Un progetto della Fondazione di Venezia
a cura di Denis Curti
interviste Federico Della Bella e Michela Frontino
regia e montaggio Fatima Bianchi
colonna sonora Nicola Ratti.
Works : Nicola Ratti
http://www.nicolaratti.com/works/
NICOLA RATTI
from URSSS
ursss.com/2014/03/nicola-ratti-3/

http://vimeo.com/72145119
2013/07 Mark Templeton | Space
from CreativeMornings/EDM / Creative Commons
Mark Templeton (fieldsawake.com) was our speaker at this month's CreativeMornings (creativemornings.com) themed "Space".
ABOUT THE SPEAKER: Canadian sound artist Mark Templeton utilizes acoustic instruments, found sounds and sampled material to construct textured, collage-like electronic compositions. Since the release of his critically acclaimed "Standing on a Hummingbird" in 2007, his sound has been called "pastoral," but also "painterly" in an attempt to describe how his sources are crumbled and reconstructed into new forms; a process further developed and realized on subsequent releases for Anticipate Recordings, Staalplaat, Sweat Lodge Guru and Under the Spire Recordings.
Templeton's works have been commissioned by organizations of contemporary dance, film and audiovisual disciplines. His ongoing collaborations with filmmakers aAron Munson and Kyle Armstrong and sound artists Nicola Ratti and Ezekiel Honig have produced numerous works on various formats. "Resophonic City" (with Nicola Ratti) and "EXTENSIONS" (with Kyle Armstrong) will be released on LP vinyl and a double release of LP vinyl and Blu-ray Disc in 2013.
Templeton has performed at international festivals and alternative spaces such as MUTEK Festival (Montreal), Unsound Festival (Krakow), Eat This Festival (Utrecht), Galapagos (New York), Send + Receive Festival (Winnipeg), Half Die Festival (Rome), Café OTO (London) and Suoni Per Il Popolo Festival (Montreal).
13 ‎– issue #3
Series: Issues –
Vinyl, LP, Album, Limited Edition, White
Italy
Released: 17 Mar 2014
Electronic
Abstract, Minimal
recorded by Nicola Ratti and Mark Templeton
in Edmonton ( CA ) and Milano ( IT )
between May and September 2012
speakers | Portable Amplifier | Synth Loops
mixed and mastered by Giuseppe Lelasi
photographic work – Leanne Olson
*The 13 "issues" series is a 16-page A4 magazine that includes 13 pages dedicated to graphic or photographic works strictly related to an audio counterpart that comes in the form of a 12" record pressed on virgin white vinyl and housed in a transparent PVC sleeve.
Limited edition of 250 copies.
13 2014
ギタリストとして音楽のスタートを切ったニコラ・ラッティ、彼の音楽はビート・アナログ・エクスペリメンテーションとサウンド・インスタレーションによってアプローチする。画家でもあるメディアの研究教師マーク・テンプルトンは聴音器を利用し、「glitchy」と呼ばれるサンプリング・コラージュ、実験的電子音楽を現代舞踊、フィルムおよびオーディオヴィジュアルを統合し展開している。 クリアーPVCに包まれたホワイトヴィニールの " Resophonic " は生成に関する作品で1つの幻覚だという。Leanne Olsonの16ページのA4マガジン/写真集が付いたニコラ・ラッティ&マーク・テンプルトンのコラボレーション" Resophonic " は、2人のアーティストのそれぞれの所在地のユニークな音場を比較し対照させるためにエドモントン(カナダ)のマーク・テンプルトンとのコラボレーションを計画した。Aサイドのテンプルトンは1つの、静かに、エドモントンの精密測定、最北の北アメリカの都市、またアルバータの首都、カナダの、サウンドスケープを構築した。ラッティは、それとは対をなすように、有名なイタリア北部の工業都市(ミラノ)のより綿密な調査および表現のために、渦巻く雑談、人間の存在、また機械的な音、スポーツの殴打、ボールおよびさびた遊び場、気味悪く高い音を出す列車ブレーキ、倉庫、飛行機エンジンの常に喚起するほえる声などをミックスして彼の都市を組み立てた。ニコラ・ラッティの作品の多くに常に都市について考え、その音においてヨーロッパの都市とどのように異なるか、また、環境が、どのように正常なものを変化させ影響するかを想像するヴィジョンが伺える。
Nicola Ratti ‎– Streengs
1 Track One 2 Track Two
3 Track Three 4 Track Four
5 Track Five 6 Track Six
7 Track Seven 8 Track Eight
9 Track Nine
Senufo Editions ‎– senufo edition # thirty three
CD, Album, Limited Edition
Italy
Released: 2012
Electronic
Minimal, Experimental
Nicola Ratti : grand piano, audio transducer, analog synthesizer, memory man
recorded at Hotel Pupil, Schrattemberg July 2011
mixed by Giuseppe Ielasi and Nicola Ratti
mastered by Giuseppe Ielasi
art and design by Sonnenzimmer
Printed – Middle Press
Released in a letterpressed sleeve. Numbered edition of 220 copies.
SENUFO EDITIONS 2012
" Streengs " はニコラ・ラッティの5番目のソロCD。グランドピアノのストリングに置かれた2台のオーディオ変換器で増幅されて、小さなアナログ・シンセサイザーや遅れ/ループする装置からなる最小のセットアップを使用して構築された。すべての部分は、環境からの音がピアノの電気的に引き起こされた反響に邪魔をすることを可能にして、2011年7月にホテルPupik(Schrattenberg)の医学研修期間中にリアル・タイムに記録されました。Giuseppe Ielasi(長年の共同者でベロー・プロジェクトをコントロールしている)とのマスタリング。
Buzzin' Around
Nicola Ratti | Streengs (track five)
Tyndall, a film by Fatima Bianchi from Fatima Bianchi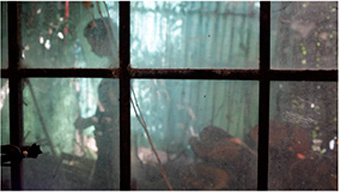 A lighthouse on the mountains over Brunate, a beam of light incessantly rotating in the dark, shedding light over something which has remained in the shadows. It illuminates one house.
The house contains members of one family, portrayed in they daily life.
The story revolves around a specific moment in time, when Francesco, the eldest son, spends one year in jail. Around that time each one of the relatives exchanges letters with him.
The Tyndall effect is a phenomenon of diffusion of light due to the presence of some particles in the air. It manifests itself, for example, when the car lights are turned on in a foggy day. The same effect is visible from the tower of the lighthouse looking towards the home of the Bianchi's family.
The best form of art comes from the natural unfolding of the facts o life, when the universes are created from the randomness, from ordinary, daily actions, from accidents, and from the actions.
Based on these premises I have developed this movie.
Directed by Fatima Bianchi - Director of photography: Fatima Bianchi - Camera: Fatima Bianchi -
Screenplay: Fatima Bianchi, Daniela Persico - Sound: Nicola Ratti - Original Music by Tilde: Attila Faravelli, Enrico Malatesta, Nicola Ratti - Voice over: Alessandro Bosetti - Editing: Fatima Bianchi, Paolo Ranieri
A project developed in the laboratory of Filmmaker, MIlano